Wes's large fleet of vehicles has the capabilities to provide services to any size vehicle, perform swap outs with other car components and services according to your company's needs.

Our Trucks Go Where You Need Us To Go – 24 / 7 / 365 Days a Year!
We have the capabilities to service both industrial and private uses. No matter when you need the help, you can give us a call to obtain a free quote on the services you need. We will relocate your vehicle/trailer to our yard or a location of your choice safe and secure so that we or the company you desire will be able to look at it and either repair it, or give it the service it needs to help you on your way.
We have over 50 years experience dealing with any type of accident recovery, from dead batteries to collisions that require far more attention and work to clean up and transport. Whether it is big or small we are here to meet your needs with the greatest satisfaction possible on your behalf. We understand that things happen and you should be prepared for any unfortunate circumstance. Having our number on hand will enable you to be better prepared to meet any event as it happens and your vehicle be taken care of.

Customer service is our number one priority. In keeping with that mindset, Wes's Service offers long term and short term storage facilities. Our facilities are safe and secure and fully lit during times of darkness. It is manned 24 hrs. a day for your convenience. 
We work with major companies, small companies and Individual owner/operators. What ever your needs are we do our best to provide the services you are looking for.
Local and Long Distance
Cross-country Towing
Flat Carriers
75 Ton Rotator
Load Shifts & Transfers
Highway Accidents
Heavy Recovery & Winching
Multi-car Haulers
Steel Coil Recoveries & Transfers
Air Cushion Recovery
Heavy Duty Recovery
Light Duty 4x4 Recovery
Skid-steer Loader w/ Forks
Flatbed Carriers (local & long distance)
Commercial Semi and Trailer Storage
Accident Investigation Storage

Light Duty Towing
Stuck in the snow or broke down on the side of the road?  Did your engine overheat or are you in a ditch? Wes's Service is here for you 24/7, 365 days a year.  We will respond professionally and promptly with the necessary towing equipment to do the job right. Our dispatchers and tow truck drivers are certified, trained and ready to ensure Wes's properly tends to any and all your towing and recovery needs.  Wes's Service has the tools, quality equipment and knowledge to handle any light duty tow, damage-free.

Equipment Transportation
Wes's Service has all the cutting-edge equipment in place to answer every call we receive.  Our fleet includes, but is not limited to:
75 ton Wreckers with 3 stage recovery boom and 42 ft. reach
50 Ton Wreckers with 3 Stage Recovery Boom
30 Ton Wreckers with 2 Stage Recovery Boom
16 Ton Standard Lift Trucks with Recovery Boom
12 Ton Standard Lift Trucks with Recovery Boom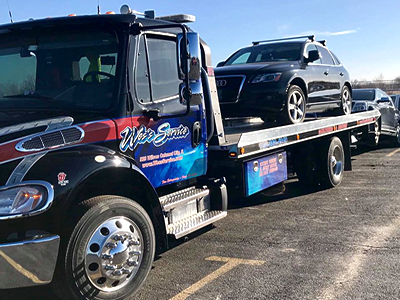 As a property owner / manager, you have the right to legally have illegally parked vehicles removed from your private property and we are just a phone call away…
Live Dispatch 24 Hours a Day, 7 Days a Week, 365 Days a Year
Installed Unauthorized Vehicle Tow Away Signs installed at every Entry/Exit
Parking Permits Available for Residents & Management
Removal of Unauthorized, Illegally Parked, Abandoned Vehicles
Light, Medium and Heavy Duty Relocation Services

Medium Duty Towing
Do your diesel pick-up trucks, utility trucks, cargo trucks, recreational vehicles, emergency vehicles, small fleet vehicles or delivery trucks need towing?  Our medium duty towing fleet uses wheel-lifts to ensure damage-free towing.  We offer dependable services with professional care 24 hours, 7 days a week, 365 days a year.  Call Wes's Service to get the job done.  We have the towing equipment you need and the knowledge to get it done right.

Vehicle Transportation
Wes's Service is bonded and insured and offers door-to-door vehicle transportation.  We focus on delivering  superior service and using our multi-car haulers to expedite a secure transportation.  Wes's Service transports vehicles everyday and can arrange to pick up a shipment in less than 24 hours.
50 Ton Flatbed Trailers
15,000 lb. Flatbed Tow Trucks
10,000 lb. Flatbed Tow Trucks
Fifth Wheel Tractors
Refrigerated Trailers
Pressure Airbags

Heavy Duty Towing
There isn't anything Wes's Service can't tow.  Tell us where to go and we'll be there.  Wes's Service is proud of our heavy duty fleet.  We are one of the largest and most trusted towing, recovery and roadside services companies in the Chicagoland area and we continue to grow.  Semi- trucks, trailers, tankers, garbage trucks, tire trucks, fire trucks, coach buses, heavy construction equipment, and cranes are just a few heavy duty favorites.  Wes's Service uses our trained operators, pressure airbags and our powerful heavy duty fleet to rescue and recover any vehicle in need.  Our qualified team and advanced equipment allows Wes's to tow and recover any heavy duty vehicle 7 days a week, 24 hours a day, 365 days a year.

Emergency Roadside Assistance
Wes's Service is available 24/7, 365 days of the year for emergency roadside assistance and accident vehicle towing capabilities. We have over 50 years experience and respond very fast to emergency calls. Our Emergency Road Service truck has the necessary medical supplies for people that just suffered an accident.
No Job Is Too Big, No Tow Is Too Small … Wes's Service Can Do It All!